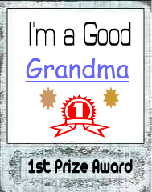 Grandparenting Tips…You can follow the best tips out there about being a good grandparent, however, are those the right ones for you? Every child and grandparent is different. We are all unique individuals =)
Always follow your gut instincts. Of course this is true for general parenting as well. However, for grandparents, they have a little more experience, (especially if they've raised a big family). A grandparent's instincts are usually good ones. For me personally with raising just one child, I've learned a world of knowledge through my experience. Would I have done things differently? You bet, for a lot of things, I would and some others, I would not.
So Grandmas, lean on your experience and always trust your own gut instincts. For the most part, they usually end up being the right choices.
Listen to your grandchildren. I mean, REALLY listen to them. Spend quality time with your grandkids and take extra special time and listen to their opinions and feelings about life, their self esteem and also how they react to you and what you have to say. And most importantly, respect THEIR feelings.
Respect your children's wishes regarding discipline. Hey, this is a huge one! I don't care how much you have to bite your tongue and swallow everything that wants to come out of your mouth when it comes to disciplining your grandchildren.
Have a talk with your kids and always, always respect their wishes about various discipline issues. And spanking happens to be one of those things. Times have sure changed since I've raised my child. For most of the new parenting generation, spanking is not a disciplinary choice. There are various alternatives to spanking. You really need to have a heart to heart conversation with your kids, and follow their wishes.
Reach out to other grandparents. This can benefit both you and your grandkids. Joining a grandparent's group is one way of reaching out to other grandparents that have been through it all. Participate in conversations and take notes. You also may come away from some of the meetings with a new friend or two.
A grandparent's job is sometimes challenging, just as normal parenting is. There is a learning curve to both parenting and grandparenting. Above are just 4 general grandparenting tips. I'm sure you can find more by following them, and also doing a search on Google.com.
Tammy is a passionate blogger. You can find more grandparenting tips and articles by Tammy Here
The following two tabs change content below.

Tammy Embrich
-- Full time work from home, writer, blogger, Avon representative, and LOVES playing with makeup. She is the proud grandmother of 2 wonderful grandchildren. You can visit Tammy at
MakeUp Products Online
.