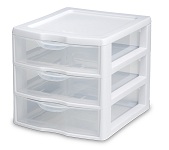 Whether you're cleaning and organizing your own closet and drawers or those of your spouse or children, this is something that must be done. How many times have you had last minute notice that someone was coming over and you shoved your closets and drawers with things that were lying around? We've all done it, but if we're more organized that won't happen.
Closets can be the messiest thing in your home at times. They can accumulate anything we don't seem to have enough room for and that's not good. These types of closets can include bedroom closets, storage closets, or coat closets just to name a few. It's unfortunate but that's the way it is. Things fall off the hangers, toys and shoes are thrown in the bottom, and the tops can be used for storage.
The best way to clean your closets is to literally empty everything out of it. Place hangered items on a nearby bed or sofa so they stay together and on the hangers. Sort through the items in the bottom and on the shelf and separate them by who they belong to or what they are. Remove anything that's not used or has a place other than the closet. Next, vacuum or sweep the floor and dust the shelf and rod. Now you're ready to put things away.
Return things that fit or are going to be stored in the closet. Placing unwanted items in the closet will only cause it to be a mess and it won't be organized. Organizing your closet will be different for each one based on what you put it in. For example if you have shoes that go on the floor, but you don't like them there, consider purchasing a shoe wrack or one that hangs on the door. If you have toys for your child, consider a toy chest or plastic containers.
Chester drawers are another place for collections of items that don't go there. It's easy to slip papers in there or items you don't want visible if someone comes to visit. Once those items are in there, it's easy to forget about them or only remember when it's too late or too early in the day to handle them. The best thing to do is put things away regularly so you don't have this problem, but that's easier said than done.
Organizing your drawers and your chest in the first place will help prevent this from happening. Always put things away and never store anything important on top of the chest unless you need easy access to it within a short amount of time. Always put things away in the same place and make sure the way you put things away make sense. Fold things properly and always put them away as soon as they are washed or done being used.
If you plan to have a junk drawer in your chest, make sure it's organized and things are neat and easy to find. Depending on the type of chest you have and which drawer you choose for your junk, you may want to put it close to the bottom. It's more important to have easy access to the drawers with clothes or other items you use regularly than it is to have easy access for the items in your junk drawer.
Once you have your closets and drawers cleaned and organized it's a good idea to keep them that way. To do this, plan a day to clean them out or remind yourself to do it each time you get into them. Once you do this for a while you'll get used to it and it will become second nature to you. At that point you'll always be clean and organized and it will show in the way your home looks.
You can find more cleaning tips by Tammy by visiting our Cleaning Tips section.
You can find more organization tips by Tammy by visiting our Organization Tips section.
The following two tabs change content below.

Tammy Embrich
-- Full time work from home, writer, blogger, Avon representative, and LOVES playing with makeup. She is the proud grandmother of 2 wonderful grandchildren. You can visit Tammy at
MakeUp Products Online
.