I love fruit on a salad and this is one of my favorites. Strawberries, oranges, goat cheese and almonds – what could be better? This dressing is delicious and easy to make and would work well on just about any salad. If you like poppy seed dressing, don't miss this salad!   🙂
By Wendy Polisi
Serves 4 as a main course or 6 as an appetizer
6 cups spinach
1 cup cooked quinoa
1 red onion, sliced thin
2 T red wine vinegar
3 fresh mandarin oranges ("cuties") peeled and cut into sections
10 strawberries, sliced
¼ cup slivered almonds
2 ounces goat cheese
Slice onions and place in a small bowl. Top with red wine vinegar and allow to marinate for at least 30 minutes or several hours.
In a large bowl combine spinach, quinoa, marinated red onion, oranges and strawberries. Toss with Raspberry Poppy Seed Vinaigrette and top with almonds and goat cheese.
Raspberry Poppy Seed Vinaigrette
1 T poppy seeds
2 T raspberry vinegar
1/4 cup orange juice
1 tsp agave nectar (use 2 if you like sweet dressings)
1 T dijon mustard
1 shallot, minced
3 T olive oil
½ tsp salt
¼ tsp paprika
Combine all ingredients in a blender and process until well combined.
Make it vegan: Skip the goat cheese and add additional almonds.
Make it cleaner: Skip the goat cheese and make sure your orange juice is from a fresh squeezed orange. Use chia gel in place of the olive oil in your dressing. To make it, combine 1/3 cup chia seeds with 2 cups of water. Pulse in your blender and allow to sit for 20 minutes, pulsing every 5 minutes or so. Store for up to a week in the refrigerator and use 1:1 as a replacement for all or part of the olive oil in any salad dressing recipe you choose.
Make it gluten free: Vinegars are traditionally gluten free, but make sure you check. Opt for a gluten free mustard.
Make it quick: Prepare the dressing a day ahead of time, or purchase a prepared poppy seed dressing. Buy diced onions and washed spinach. You may also want to used canned mandarin oranges.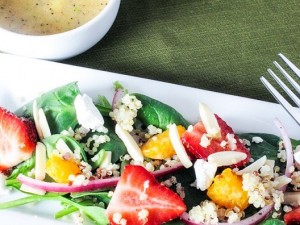 More of Wendy's Recipes Can Be Found Here
Enjoy! 🙂
The following two tabs change content below.

Tammy Embrich
-- Full time work from home, writer, blogger, Avon representative, and LOVES playing with makeup. She is the proud grandmother of 2 wonderful grand blessings. You can visit Tammy at
MakeUp Products Online
.