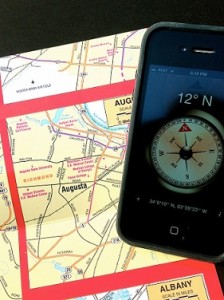 By: Lori Lauth
Recently during a morning of running errands, I made a quick pit stop for a cup of coffee. As I got back in the car, I realized getting back into the flow of traffic in the direction I needed was going to be a challenge. As I got into the car I prayed silently for God to show me a way so that I didn't have to make a bunch of u-turns in order to get back on my route.
Just as I started driving I saw a car driving in the direction I needed to go and I started to follow. I ended up on a small access road that took me to a red light that contained a turn arrow. Praise the Lord! I had never seen this road before but it had been there all along.
Sometimes we get so turned around by life when we look at the big picture and forget to remember that we have a good shepherd that guides us. All we have to do is ask and listen. Your ears shall hear a word behind you, saying, "This is the way, walk in it," whenever you turn to the right hand or whenever you turn to the left.
(Isaiah 30:20 NKJV)
May our hearts cry out to the Lord to show us the way today. He is wanting to help and lead every step of the way. 😉
By: Lori Lauth
May you have a great week! =)
The following two tabs change content below.

Tammy Embrich
-- Full time work from home, writer, blogger, Avon representative, and LOVES playing with makeup. You can find her on Youtube as well. She is the proud grandmother of 2 wonderful grandchildren. You can visit Tammy at
MakeUp Products Online
. You can also subscribe and follow Tammy's Makeup and Beauty videos
Here
.