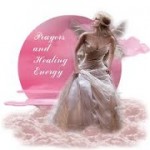 I opened up my Bible yesterday morning and found my Mother's memorial prayer card…I have not read that in a long time. =)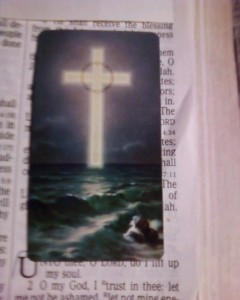 Here is what it says on the back…
Safely Home
I am home in heaven, dear ones,
Oh so happy and so bright!
There is perfect joy and beauty,
In this everlasting light.
All the pain and grief is over,
Every restless tossing passed;
I am now at peace forever,
Safely home in heaven at last.
There is work still waiting for you,
So you must not idly stand;
Do it now, while life remaineth;
You shall rest in God's own land.
When that work is completed;
He will gently call you Home:
Oh, the rapture of that meeting;
Oh, the joy to see you come!
🙂
Here is Mom's favorite Bible scripture…
The Lord is my shepherd; I shall not want.
He maketh me to lie down in green pastures: he leadeth me beside the still waters.
He restoreth my soul: he leadeth me in the paths of righteousness for his name's sake.
Yea, though I walk through the valley of the shadow of death, I will fear no evil: for thou art with me; thy rod and thy staff they comfort me.
Thou preparest a table before me in the presence of mine enemies: thou anointest my head with oil; my cup runneth over.
Surely goodness and mercy shall follow me all the days of my life: and I will dwell in the house of the Lord for ever.
Psalm 23
*~*~*~*~*~*~*~*~*~*~*~*~*~*~*~*~*~*
Matt 8:11
And I say unto you, That many shall come from the east and west, and shall sit down with Abraham, and Isaac, and Jacob, in the kingdom of heaven.
Matt 5:8
Blessed are the pure in heart: for they shall see God
Matt 18:10
Take heed that ye despise not one of these little ones; for I say unto you, That in heaven their angels do always behold the face of my Father which is in heaven
*~*~*~*~*~*~*~*~*~*~*~*~*~*~*~*~*~*
I also wanted to mention a Christian website that is owned by Heather Bixler.
Christian Stay at Home Moms
I am signed up for her encouragement newsletters/emails and look forward to these on a weekly basis. Devotions, poems and prayers all designed to uplift and encourage you spiritually! =)
Members receive regular discounts, freebies, and more.
Subscribe for FREE : Here
Latest Post on the website — I Learned Grace
Also see: HeatherBixler.com
You can also find Heather on Facebook
Hope you all have a great week! 🙂
The following two tabs change content below.

Tammy Embrich
-- Full time work from home, writer, blogger, Avon representative, and LOVES playing with makeup. She is the proud grandmother of 2 wonderful grand blessings. You can visit Tammy at
MakeUp Products Online
.