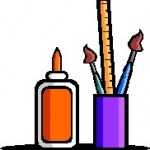 Whether you live in horse country or just have grandkids that like horses, planning a horse craft afternoon is a great way to spend some quality time with your grandchildren. Stock up on your craft supplies, put on your creative hat and get to work making some fun projects the kids will be proud to display. Of course, you'll need to tailor the projects to the ages of the kids, but here are some ideas to get you started.
Shopping for Supplies
Many projects can be made with recycled materials, but you'll need to plan in advance to stock up on the right materials before craft day. Pick a project and start saving items right away. You can also start a craft supplies collection with cardboard tubes, egg cartons, plastic containers, paper bags, shoe boxes, scraps of fabric, string and whatever else you could see reusing instead of trashing. When you need to purchase supplies, you can often find coupons for craft stores in the Sunday paper to help reduce the cost. Seasonal craft supplies often go on sale after the season is over, so look for potting stuff at the end of the summer or yarn when the weather starts to warm up.
Setting up a Craft Area
Regardless of the type of project you pick, the craft is likely to get a little messy, and the grandkids will have more fun if you get to fully engage with them rather than worrying about the mess they're making. If the weather is nice, the kids would probably enjoy making the craft outside at a patio table. If you're inside, consider getting a disposable tablecloth so you don't have to worry about glue, and put down newspaper on the ground if the table is over carpet or a rug.
Fun Horse Projects
There are countless horse craft projects you can do, and the best ones will depend on how old the grandkids are and what aspects of horses they're interested in. You can find tons of ideas for horse craft projects online at sites like Pinterest, but here are a few ideas to get started:
· Horse Planter: Instead of planting spring herbs in a plain pot, make horse-shaped planters out of peat pots. These make great gifts, too. Use a larger peat pot for the horse's body and cut a slit in a smaller peat pot to fit it over the rim of the larger one and make the head. Decorate the horse's head with paper cutout ears, a feather or yarn mane, and googly eyes. Add popsicle stick legs and you're ready to plant something in the larger peat pot!
· Stick Horse: It's always fun to ride a pretend stick horse around the house or yard, and it's even better if it's a homemade one. There are plenty of ways to make a stick horse, depending on how durable you want it to be. Older kids will enjoy making a well-crafted horse, perhaps to give to a younger sibling, out of a sock, felt, yarn, stuffing and a dowel. For a quicker craft project with less expensive materials, opt for a horse with a paper bag for the head and a cardboard wrapping paper tube as the stick.
· Horse Decorations: If you have granddaughters who have horse figurines, one fun idea would be to create accessories for the horses to wear. Girls can create a saddle out of felt and jewels, reins out of beads and string, and braid glittery string into the horse's tail. Make sure they have their horses there so they know what size to make all of the accessories.
The most important part with these craft projects is to have fun while you work on them together. Let the kids be creative, and don't get too held up on making sure they do the project correctly. They'll probably ask for help when they need it, and as long as they're enjoying themselves, they should feel free to deviate from the plan. They may even come up with their own ideas to work on after they finish the craft!
Danielle loves spending time crafting with children. She's always on the lookout for coupons for craft supplies and knick-knacks. Her relaxing activities include crafting, gardening and crocheting.
The following two tabs change content below.

Tammy Embrich
-- Full time work from home, writer, blogger, Avon representative, and LOVES playing with makeup. You can find her on Youtube as well. She is the proud grandmother of 2 wonderful grandchildren. You can visit Tammy at
MakeUp Products Online
. You can also subscribe and follow Tammy's Makeup and Beauty videos
Here
.