(Okay, maybe not quite that easy but pretty darned easy)
By: Dennis Weaver @ The Prepared Pantry

People are intimidated by pies. They shouldn't be. You can make pies as good as the bake shop—even fancy pies. And they're yours. And you'll save a bucket of money.
If you have ever had trouble with pies in the past, you won't again. This is your answer.
How to Bake the Perfect Crust
It's the crusts that intimidate people. Throw away the recipe—the recipe for the crust is definitely more complicated than a PB sandwich. You have to cut the butter or shortening into the flour with a pastry knife. You have to keep the dough cold, work quickly, and don't handle the dough too much.
Forget all that. Grab a mix. A mix is darned near foolproof. Just add water. Beat it with the paddle in your stand-type mixer for no more than a minute. You're done.
How to Make Your Pie Crust Pretty in 3 Easy Steps
A good crust is not necessarily a pretty crust. Here's how to make it pretty.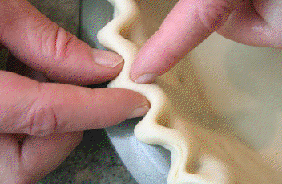 Sprinkle a little flour on the counter and roll out the dough until it is a little thinner than 1/4 inch thick. You may need to sprinkle a little flour on the rolling pin. (Do yourself a favor and buy two of these shakers. Fill one with flour and the other with powdered sugar. (You'll be amazed how often you use them.)
Transfer the dough to the pie pan. Trim the edges using a sharp knife or a bench scraper.
Make the edges pretty. It's easier to show you than to tell. Once you've done it. It's simple. Watch the video Here. You're done.
If you need a pre-baked crust, fill the crust with ceramic pie weights , or a pie chain weight and bake. If not, load it with a filling. Sometimes, you'll need a top crust. Add it, trim it, and flute it in the same way. (Make sure you press the bottom and top dough sheets together with a fork before forming the edge so it doesn't leak.)
Cut vent holes and bake. Even easier, cover the top with streusel. Use this easy streusel mix.
You've still got to bake your pie.
There are two faults with baked pie crusts: The top edges can burn and the bottom can be soggy, under baked. You can solve both those problems with equipment.
Use dark pie pans. Dark pie pans absorb and distribute the heat. Your bottom crust will be browned and crisp. (These are pretty amazing pans. You can slide your pie out of the pan and onto a plate for cutting and serving.)
Cover the top edge of the pie with a pie shield. Those top edges take a beating in the oven. By the time the bottom crust is baked, the top is burned. A pie shield stops that. Use one every time you put a pie in the oven. You're ready to go!
Grab some recipes and start making some easy pies. Once you've made a couple pies, they'll be as easy as peanut butter sandwiches—almost. You'll be the designated pie baker at family reunions, church socials, and with friends. No more expensive trips to the bake shop.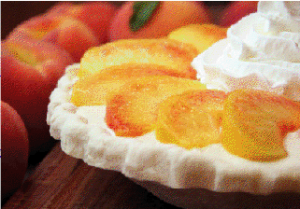 Fresh Peach (or Strawberry) White Chocolate French Silk Pie Recipe
If you have fresh peaches, consider this incredibly good French silk pie. If it is not peach season, consider making this pie with strawberries or mangos.
A French silk pie is usually made with dark chocolate; this one uses white chocolate. They are usually made with raw eggs. In this recipe, they are cooked.
1 nine-inch deep dish pie shell, baked and cooled
3 large eggs
2/3 cup granulated sugar
1 quarter-ounce packet non-flavored gelatin
1 tablespoons water
10 ounces white chocolate wafers or other quality coating or eating chocolate
1/2 cup butter cut into pieces and softened
1 cup whipping cream
1 teaspoon vanilla flavor
1/3 cup granulated sugar
2 cups fresh peaches peeled and diced peaches for garnish and topping
Mix the sugar and gelatin powder together. Add the eggs, sugar mixture, and water to a large sauce pan. Cook the egg and sugar mixture over low to medium low heat while beating constantly with an electric mixture. Continue cooking and beating until the mixture starts to thicken and reaches 165 degrees being careful not to scorch the eggs. Remove from heat.
Immediately mix the butter into the hot egg mixture with the electric mixer until smooth. As soon as the butter is melted and while the mixture is still hot, add the white chocolate wafers. Continue beating until it is completely mixed together and cooled to room temperature.
Whip the first measure of whipping cream in your stand-type mixer with the whip attachment until stiff peaks form. Add the vanilla flavor. Add the peaches.
Change from the whip attachment to the paddle attachment. Scrape the white chocolate mixture into the bowl with the whipped cream. Turn the mixer onto the slow speed setting and gently fold the chocolate mixture into the whipped cream. Mix for less than a minute, until the white chocolate is mixed into the whipped cream. Scrape the filling into the prepared pie pan. Set aside and let chill.
When you are about ready to serve, whip the second measure of whipping cream. As the cream is whipping and after the peaks start to form, drizzle in the sugar and add the flavor. Beat until stiff peaks form. Top your pie with peaches and whipped cream.
Dennis Weaver is the founder of The Prepared Pantry.
He is the author of How to Be a Better Baker, a 250 page book about the art and science of baking. You can download a free copy of How to Be a Better Baker here.
Copyright © Dennis Weaver :: The Prepared Pantry :: Grandma's Home Blogger Place :: All Rights Reserved
The following two tabs change content below.

Tammy Embrich
-- Full time work from home, writer, blogger, Avon representative, and LOVES playing with makeup. You can find her on Youtube as well. She is the proud grandmother of 2 wonderful grandchildren. You can visit Tammy at
MakeUp Products Online
. You can also subscribe and follow Tammy's Makeup and Beauty videos
Here
.