I was thrilled when I received an email to do a review and giveaway on this adorable, innovative birthday candle. It's nothing like I've ever seen before! It will sure to be a big hit at any child's birthday party. The candle comes in 4 vibrant colors;  blue, pink, yellow and red.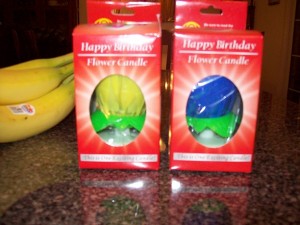 Sunday I realized I had to go to the store and get a cake mix and frosting in order to review this candle. LOL, I was going to make my hubby a cake for Valentines day anyway…a chocolate, round, double layer, his fav.
In fact, this candle would definitely look totally awesome on a Valentine cake! 🙂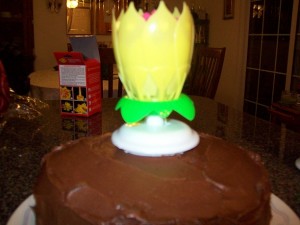 When my husband and I lit the candle, I know the flame shot up 7 to 8 inches, at least. It was totally awesome to watch. After approximately 10 – 12 seconds, the flower part of the candle opened up and the big flame lit the small candles and then started turning around in a circle and played the tune of "happy birthday." It brought a huge smile to my face.
Not only young children would love this candle, but individuals of ALL ages, and especially Grandparents and the elderly. =)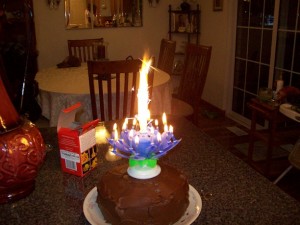 This amazing candle will definitely get a lot of oohs and ahhs at your child's party. There's no doubt about it.
However, (as it states on the box instructions), there needs to be supervision while using them . Always have an adult light them and instruct your child to wait until it's safe to blow the candles out.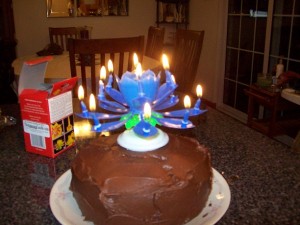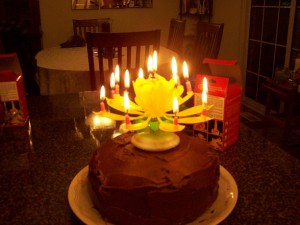 Specials going on right now at the amazing candle website…
Buy 2 candles and get 1 FREE!
Also free shipping on 2 or more orders!
RULES FOR GIVEAWAY
 FIRST TWO ARE MANDATORY FOR VALID ENTRIES!
Beyond The Two Mandatory Entries Are Extra Entries That Will Help You Win The Giveaway! 🙂
1. Follow this blog via Networked Blogs, (right column). You will need a Facebook account. Make a comment and include your email address
2. Go to the Amazing Candle site and come back and tell us what color you like the best. Separate comment
3 Like them on Facebook
4. Follow me on (Twitter @hometelecommute) and make a new comment
5. Tweet about this Amazing Candle giveaway and make a new comment
6. Blog about this Amazing Candle Giveaway and make a new comment
The lucky winner of this giveaway will win 2 of these amazing candles in the colors of their choice. Blue-Pink-Yellow and red.
Giveaway Ends March 1st. 🙂
View their videos
Here!
~*~*~*~*~*~*~*~*~*~*~*~*~*~*~*~*~
I now have a new countertop. For others that have seen pics of my kitchen were used to seeing a cranberry color. It's no longer cranberry LOL It's called "blackstar granite" It is laminate granite with a glossy finish. I love it 🙂 I will be doing a blog post after I'm completely finished with the decor of my kitchen for my craft blog.
Copyright © Tammy Embrich :: Grandma's Home Blogger Place :: All Rights Reserved
The following two tabs change content below.

Tammy Embrich
-- Full time work from home, writer, blogger, Avon representative, and LOVES playing with makeup. She is the proud grandmother of 2 wonderful grand blessings. You can visit Tammy at
MakeUp Products Online
.