Ingredients
2 pkg. (0.9 oz) JELL-O banana cream flavor fat and sugar free pudding
3 1/2 cups 1% milk
About 20 low fat nilla wafers
2 bananas thinly sliced
1 small container light cool whip
About 1/2 cup quartered walnuts (go easy on these, as they are high in fat)
Directions
Mix pudding and milk in bowl with whisk about 2 minutes.
Layer the bottom of a 2-qt. bowl with half of the nilla wafers. Add layer of 1/2 of the pudding. Add layer of 1/2 of the banana slices.
Then repeat the layers. Add the cool whip on top. Then sprinkle with the walnuts. Store in refrigerator.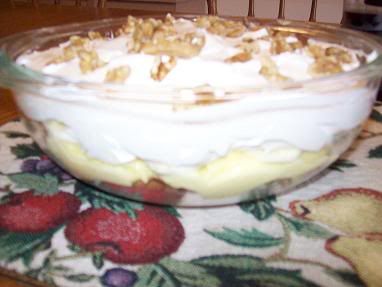 Enjoy ~~ 🙂
The following two tabs change content below.

Tammy Embrich
-- Full time work from home consultant, freelance writer, blogger, Avon representative, and likes doing Paid Surveys. You can find a list of 10 (free) survey sites
Here
. She is the proud grandmother of 2 wonderful grandchildren. You can visit Tammy at
Freelance Writing Jobs and Services
and
MakeUp Products Online
. You can also subscribe and follow Tammy's Makeup and Beauty videos
Here
.