By Devin Alexander Healthy Decadence
Ingredients
1/4 cup unsweetened applesauce
1 teaspoon vanilla extract
4 egg whites
1 cup sugar
1/4 cup unbleached, all-purpose flour
1/2 cup unsweetened cocoa powder
1/2 teaspoon instant espresso powder
1/2 teaspoon baking powder
1/2 teaspoon salt
1/4 cup mini chocolate chips (semi-sweet) – I used the standard size, I didn't have any of the mini sized on hand.
Butter-flavored cooking spray
Directions
Preheat the oven to 350 degrees. Spray an 8×8 inch non-stick cake pan with spray.
In a medium mixing bowl, using a sturdy whisk or spatula, mix the applesauce, vanilla, egg whites and sugar until they are well combined.
Add the flour, cocoa powder, espresso powder, baking powder, and salt. Stir the mixture until it is just combined and no lumps remain. Pour it into the prepared pan. Sprinkle the chips evenly over the top. Bake the brownies for 20-22 minutes or until a toothpick inserted in the center comes out dry (a few crumbs are okay).
Transfer the pan to a cooling rack and allow them to cool 5 minutes. Cut into 12 equal brownies. Makes 12 (1 brownie) servings.
Each brownie has: 88 calories, 2 g protein, 19 g carbohydrates, 1 g fat, less than 1 g saturated fat, 0 mg cholesterol, 1 g fiber, 133 mg sodium
Traditional Double Chocolate Brownies have: 260 calories, 3 g protein, 37 g carbohydrates, 12 g fat, 3 g saturated fat, 15 mg cholesterol, 1 g fiber, 165 mg sodium
This was so yummy, but without the guilt! 🙂
From: Devin Alexander Recipes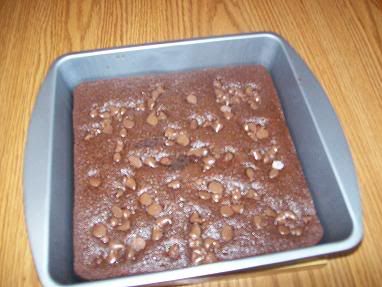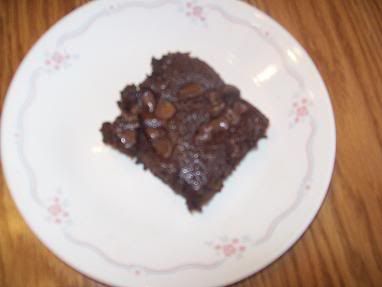 The following two tabs change content below.

Tammy Embrich
-- Full time work from home, writer, blogger, Avon representative, and LOVES playing with makeup. She is the proud grandmother of 2 wonderful grand blessings. You can visit Tammy at
MakeUp Products Online
.